White Magnetic Wallpaper for Walls: What You Need To Know
Are you considering adding a magnetic surface to your workspace or classroom? Try a white magnetic wallpaper for walls like Smart Magnetic Wallpaper.
They are high-performance magnetic wall coverings that allow you to transform any wall into a smooth magnetic surface. Any wall or room can become a modern, clutter-free and collaborative working area. Think it sounds interesting? Then check out some of the things you will want to know about this white magnetic wallpaper for walls before you pick your product.
What Size Will My White Magnetic Wallpaper for Walls Be?
Smart Magnetic Wallcoverings come in custom length rolls of up to 107 sq.ft. You simply choose your quantity on the product page and add to checkout. Due to the magnetic receptiveness of this wallcovering, it weighs 14.5 kg when out of the box. This is a commercial grade, size and weight product.
How To Apply Magnetic Wallcoverings?
So the next thing you need to know is, how to apply your magnetic wallcoverings.
One of the benefits of this product is how quickly it can be installed. While we would advise you to apply your white magnetic wallpaper horizontally, avoiding any jointing in the middle of the wall where most writing will occur, it can be applied in the same way as any commercial wallpaper. This white magnetic wallpaper can be rapidly installed to any smooth surface. This is a commercial grade product, designed for workspaces where rigorous use and high performance are expected.
Since this white magnetic wallpaper can be installed so quickly, you will have limited disruption to your working day. Not only that, you'll be able to use your magnetic wall in just 48 hours. That makes Magnetic Wallpaper quick to install and ready to use in no time.
For more information, read this step-by-step application guide.
It Comes Pre-Primed And In White
One of the first things you will probably need to consider is how your magnetic wall will fit in with the rest of your office. Will it have a grey finish like so many other magnetic products? The answer is no. Smart Magnetic Wall covering is a white magnetic wallpaper.
This means that the Magnetic Wallpaper will fit into your office seamlessly. It comes pre-primed too. This means that if you fancy a magnetic surface in another color, simply paint it on the top of your wallpaper.
How To Use Magnetic Wallcoverings
Magnetic Wallcoverings are perfect for any office or classroom. Why not have team building exercises at your magnetic wall? Or review campaigns by sticking up analytical data onto your wall and working out which elements were more successful than others.
You can brainstorm, project plan, design websites the choice is yours. There are countless ways for you to make use of your magnetic surface. One last note. Make sure to only use neodymium or rare earth magnets with your white magnetic wallpaper.
You Will Have A High Quality Magnetic Surface
The main reason you are choosing a magnetic product is because you want magnetic functionality. So, this is one of the main things to consider when choosing your product. With Magnetic Wallpaper, your wall will work better than any magnetic board and you won't have to worry about size limitations.
This product is perfect for any workspace or school. Update meeting rooms, offices, classrooms, even conference centres and so much more. You'll have an ideal place to brainstorm new ideas and project plan. The choice is yours.
Magnetic Wallpaper for Walls Is Not Dry Erase, But You Can Add This Functionality
As the heading says, Magnetic Wallpaper for walls does not come with whiteboard functionality. However, you can add dry erase functionality to your magnetic wall in just one step. Simply top-coat your white magnetic wallpaper with Whiteboard Paint to have a magnetic and whiteboard surface.
Or if you prefer, why not go for a bright color? Add your color of choice on top of your magnetic surface and then finish by applying Whiteboard Paint in Clear. The choice is yours.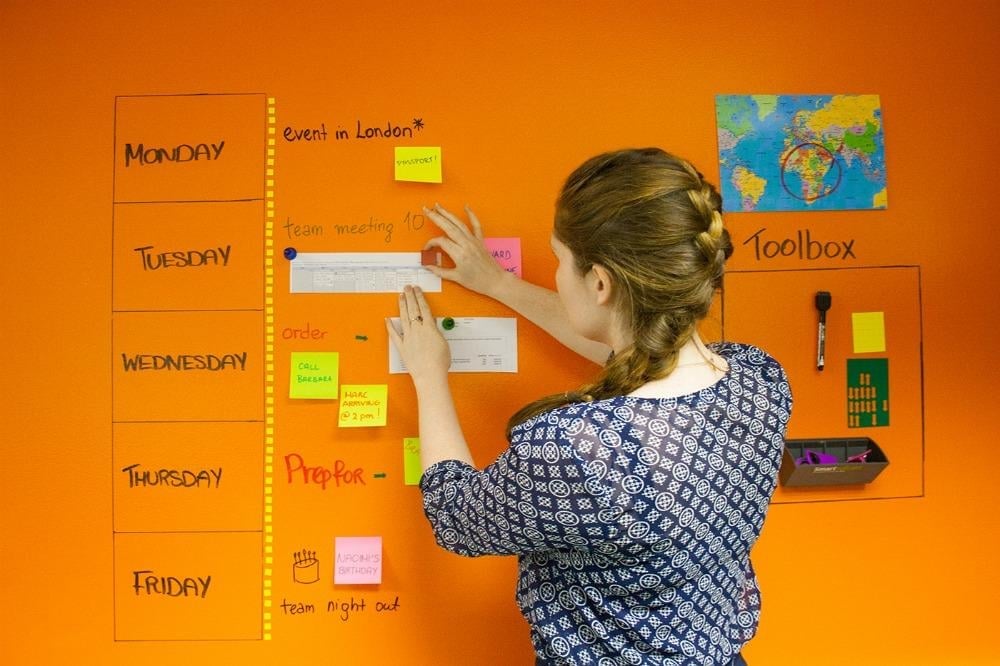 Or opt for a Magnetic Whiteboard Wallpaper for double the functionality. You can also check out our triple functionality magnetic projector screen whiteboard wallpaper.
Have you any questions regarding our products? Call us on the relevant number below:
US:1800 932 1609 IE:01 4126200 CA:1800 948 9438