Why Switch Out Your Green Screen Fabric for a Green Screen Paint Today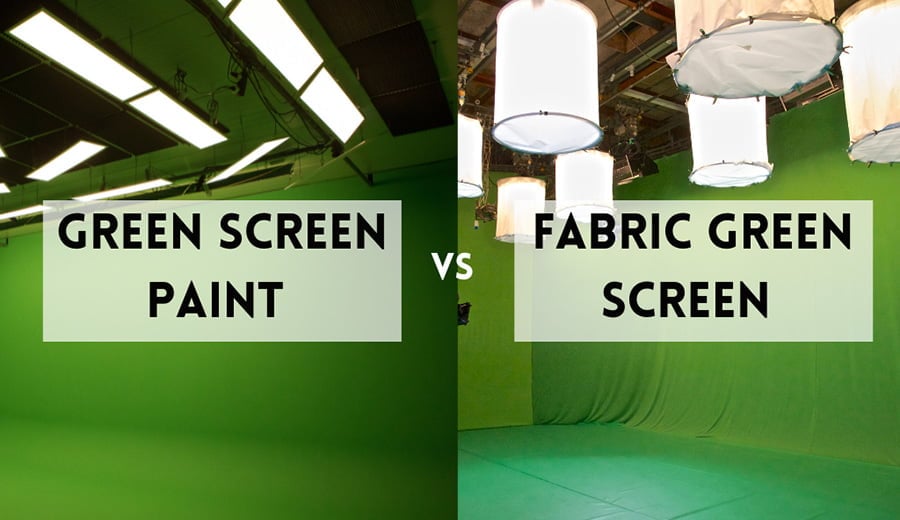 The use of the green screen is no longer reserved for big Hollywood productions with larger budgets and is now a prevailing feature of both amateur and professional video production.If you are new to filming – It can be difficult to know where to start – whether you are new to the concept of green screen backgrounds or simply want to take yours to the next level – we are here to simplify everything you need to know to achieve the possible quality for your video creations.
Why Use a Green Screen?
A green screen or 'Chroma Keying' is a technique used in video production to depict various locations and backgrounds from a single room or studio. It also facilitates the use of special effects. The option to modify the background is a key feature in video production allowing users to engage in a range of optical effects and lighting alterations.
Green Screen Paint vs Fabric
The most popular means to create a green screen are green screen fabric and green screen paint. Green screen paint is now more widespread than ever and has served to remedy some of the drawbacks presented by the traditional use of green screen fabrics.Paint has now established itself as the most effective and affordable means to chroma key your production space. We will run through just some of the benefits to replacing your green screen fabric with a professional paint today.
Goodbye Wrinkles!
Wrinkled fabric is a common complaint among green screen fabric users. This can be rectified by simply switching out your green fabric for a professional paint. Creases tend to appear even in the best quality materials – particularly in shots that require many dynamic movements over a long period. This leads to frequent interruptions to iron or steam fabrics or stretch out using clips or other fasteners. These interruptions can impede the flow of filming and often draw out the process. As well as being a time-saving exercise using a professional paint will ensure you are always working with a perfectly smooth surface to yield optimal results.
Fabrics Become Damaged or Can Move Over Time
Materials used in Chroma Keying often become damaged over time, even the top-end products experience quality deteriorations and this compromises the overall standard of your creations. This is particularly important where the videography requires dynamic movements and the use of elaborate set props that may damage the green screen with continued use. With a professional paint you can always ensure the quality is not compromised throughout a single filming session or over longer periods of time. No matter when you return to your filming studio or room you can always expect impeccable quality when you choose a professional chrome paint background. Better yet, you won't have to take frequent filming breaks to smooth out wrinkled fabrics.
Safety First
The green screen paint is a much safer option and this one of the primary reasons many professional studios have made the switch. The fabric green screen is susceptible to movement that can easily become a health and safety hazard. Option for a professional paint ensures you can avoid home or workplace mishaps and ensures you and your team stay safe throughout.
Save Time On Editing
Editing can often be an extremely time-consuming task for videographers and filmmakers – and working with a high-quality green screen can help you save valuable time post production. For example – where a damaged fabric is used this can impact the overall quality of the shot by compromising the lighting of the space. Lighting is key for filming and where a high-quality paint is used you can cut down on editing as you do not have to engage in extensive color correction or apply other edits post production.
Improved Color Density
The whole concept of using a green screen is centered on the ability to evenly reflect light back to the camera. This process is dependent on the availability of a smooth and even surface with a crisp matte finish. Our professional green chroma paint contains a specialised formula that ensures the best possible colour density with a deep concentration not found in traditional paint mixes.
Paint for Your Space
Often green screen fabrics are produced in standard sizes and may not be suitable for every studio or filming room. Painting offers the alternative to tailor your green screen to your specific requirements in terms of space. Standardized fabric greens often require additional tailoring to fit a designated space. This further draws out the production process.At Smarter Surfaces our chroma key paint is specially formulated to ensure a smooth and easy application – coupled with a highly concentrated matte finish to yield the best possible results for your video productions.
Have you any further questions regarding our products? Call us on the relevant number below and a member of our team will be glad to help: US: +1805 953 7213 CA: +1800 948 9438 UK: +44 2035 145395 IE: +353 1 4126200