Magnetic Wallpaper VS Magnetic Boards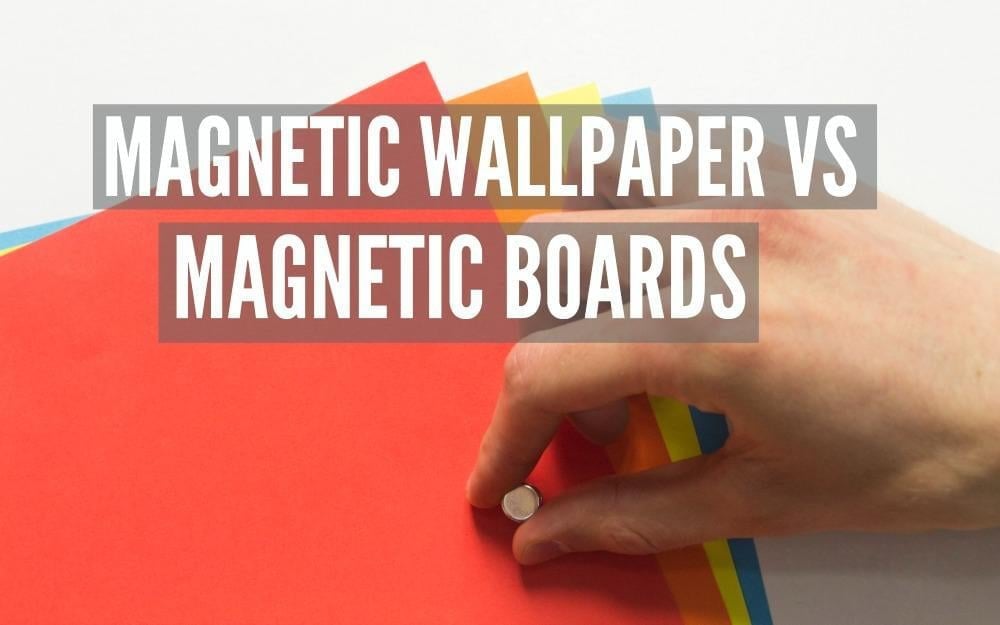 The addition of a magnetic surface to your workspace can be really beneficial.
It can be a useful tool for brainstorming, planning, scheduling and project management. Traditionally companies had no choice other than  magnetic boards. Now modern organisation can choose Magnetic Wallpaper instead.
With all these products on the market, how do you work out what best fulfills your needs?
We're here to help. Check out our comparison between Magnetic Wallpaper and Magnetic Boards below.
Installation
First up, how do you apply either product?
Magnetic boards usually need to be installed by a professional as they usually need to be assembled and added to the wall. They require fixtures to be attached to a wall which necessitates drilling into the wall and creating holes.
Magnetic Wallpaper is also a professional product. However the benefit of it is that it it can be rapidly installed and used in just 48 hours. Any wallpaper installer can hang Magnetic Wallpaper.
Appearance
So, how do both products look?
On occasion magnetic boards can appear cheap and are often surrounded by a plastics frame. This can look clunky on the wall and can make a room seem smaller.
Magnetic Wallpaper, on the other hand, is directly applied to your wall. This means it does not take a lot of space. Magnetic Wallpaper comes in a white finish but can be topcoated in any colour of your choice.
No matter what colour your room is, Magnetic Wallpaper will fit in it seamlessly.
Maintenance
When choosing any product, maintenance is an important aspect to consider.
You need to know that the magnetic product you choose will last for as long a time as possible.
Magnetic boards, while being a potentially long lasting product, can carry with them the risk of being cracked or shattered if dropped. The main issue with this is that they are often difficult and rather expensive to repair.
Magnetic Wallpaper comes with a 10 year performance guarantee. This means that the product should continue to work at the same level of magnetic performance for the first 10 years you use it.
This life span greatly surpasses that of traditional magnetic boards. What could be better than that?
Ease of Removal
But If you decided you didn't want your product anymore, could you remove it?
Magnetic boards, once applied, can be difficult to remove as they have usually been screwed into the wall. This usually requires a professional to come in to remove it. Drilled holes need to be filled and the entire wall painted over.
Magnetic Wallpaper, on the other hand, can be removed just like any regular wallpaper. There will be no surface damage to the wall.
Magnetic Wallpaper Strength
Magnetic Boards do not usually have a strong magnetic pull. They use average fridge magnets, which at most, can hold up a page or two.
Magnetic Wallpaper meanwhile is used alongside neodymium/rare earth magnets, the strongest magnets available.
It is a much stronger product than magnetic boards and can therefore hold a lot of weight.
Does It Go Around Corners?
Unlike magnetic boards, Magnetic Wallpaper can be applied around corners and can even fill a  wall or entire office or training room or co-working space.
Now that you've seen the differences between both products it is time to make your choice. Which product will you be using to create your magnetic surface?
Have you any questions regarding our products? Call us on the relevant number below:
US:  (+1) 800 932 1609   UK: 0203 5145395
IE: 01 4126200            CA: 1800 948 9438
Find out why you should choose magnetic plaster rather than regular plaster here.
Find out everything you need to know about magnetic wallpaper here.