Make Your Own Colored Whiteboard Surface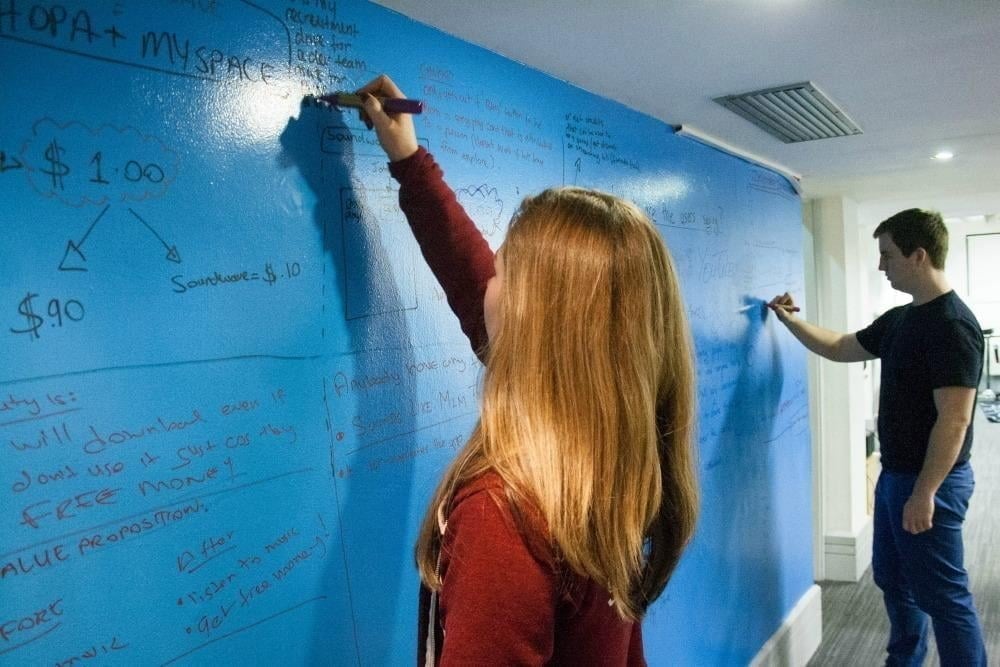 So, you're thinking of adding whiteboard functionality to your surfaces. We think that's a great idea.
Whiteboard surfaces are an amazing tool that can help you plan, organize and visualize all of your projects without limiting yourself to the small confinements of a traditional whiteboard. The best part is that, unlike with traditional boards, you can actually have a colored whiteboard surface.
Simply apply this one-coat transparent writable paint onto a variety of colored or designed surfaces including wallpapers, digital prints or just regular painted walls.
Sound interesting? Then check out some of the ways you can create a colored whiteboard below.
Create Energetic Blue Colored Whiteboard Walls
Colored whiteboard walls can help with idea generation and customer feedback reviews. This has worked particularly well for Soundwave, the music discovery app company.
They used Smart Whiteboard Paint White and Clear in their office, applying the transparent coat to their blue walls. The company took full advantage of the dry erase functionality by writing customer comments and project ideas on their whiteboard walls.
Everything could be seen clearly on the colored whiteboard wall. This made the product a fantastic tool for looking at what people thought of the company's services. It also helped them brainstorm ideas for their future projects.
If you have a blank wall that you want to use, turn it into a feedback wall and write up customer comments. You could also use it for idea generation during meetings in your office.
Opt For Upbeat Yellow Tones In Your Space
Colored whiteboard walls also make it easier to be more creative when brainstorming in meetings.
See how Bopgun, a marketing and design agency, achieved this by coating their yellow walls with transparent whiteboard paint.
They wanted a space to brainstorm ideas for projects with one-another and with clients. At first, they considered whiteboards, but felt they were outdated, so they went with Smart Whiteboard Paint Clear.
The dry erase functionality provided a space for them to be creative and doodle on their whiteboard walls. As a result, they were able to expand on their ideas and work as visual thinkers. All with a colored whiteboard wall.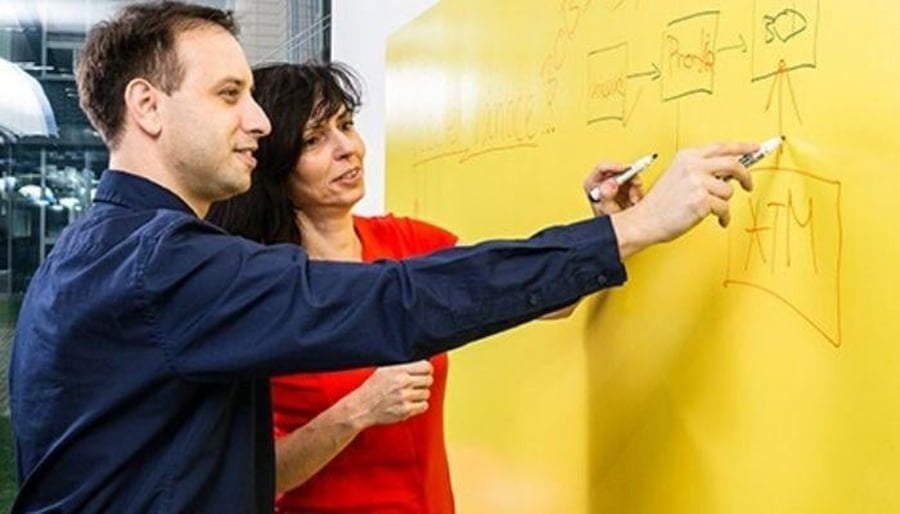 Go Green In Your Office
Want to get even more use of your workspace?
Turn your green walls, doors, chairs or other furnishings into colored whiteboard walls and use them for a wide variety of different purposes.
Smart Wall Paint Austria used green writable chairs in their entry to a competition hosted by the Johannes Kepler University Linz in Austria. The contest involved suggesting a new way for the university to create an "Idea Lab". This was a place where students could use their creativity, generate ideas and work together. Entries were to be unique and use all of the 24 sq.m area of the room.
Smart Wall Paint Austria's entry, entitled "Minimal White" covered the room in Smart Wall Paint White and Clear. This included the walls and even the furniture, check out the green writable chairs below.
All of these colored whiteboard walls allowed multiple groups to use the room at the same time as it could be divided into sections that different teams could use.
We have also used the dry erase paint and green combination on our meeting room door. It provides extra space for jotting down notes during meetings, and acts as an excellent message board on which important pieces of information could be written.
Add more to your office by using the green spaces in your workplace, either for minute taking or to write up notices for the whole office.
Colored Whiteboard Walls On A Digital Print
Did you know that you can even topcoat digital prints? Try Smart Whiteboard Paint in Clear or Smart Self Adhesive Whiteboard Film? Well you can, and it's a great way of enhancing your personalized surfaces with functionality.
You can add clear Whiteboard Paint on top of any digital print for magnetic and whiteboard functionality.
There are plenty of ways you can create colored writable walls for your office or classroom. Check out more about creating a writable surface in any color here.
Have you any questions regarding our products? Call us on the relevant number below:
US:1800 932 1609 CA: 1800 948 9438