Magnetic Whiteboard Surface: Which should you choose?
Want a magnetic whiteboard surface but not sure which product to choose? You're in luck as today we will be discussing all of the magnetic and dry erase options that are available to you. This is to help you make an informed decision when choosing what product you will use to create your magnetic dry erase surface.
Magnetic Whiteboard Surface
Boards are Outdated
Traditional magnetic dry erase boards have been around for a very long time and have long been a staple within offices and classrooms throughout the world. However as newer technologies have appeared on the scene magnetic whiteboards can appear outdated and lower quality.
Damage Walls
Magnetic whiteboards are usually applied onto a wall, drilled and screwed into place and should normally be applied by a professional installer.. Due to this more complicated application, it is also suggested that magnetic whiteboards are also removed by professional installers or someone with magnetic whiteboard removal experience.
Colour and Size Limitations
They are predominantly white in colour however some smaller magnetic whiteboard options can be found in a range of colours. The size options available for magnetic whiteboards is usually around 6sq.m,  which makes it difficult for anyone looking a much larger magnetic and dry erase surface. Due to them being fixed onto a wall,  they tend to be very clunky looking and can be quite an eyesore.
Magnetic Strength
Magnetic dry erase boards do not have a high amount of magnetic functionality as they can usually not hold up much more than a few kitchen magnets.
Ghosting
In terms of dry erase functionality,  it should be noted that traditional magnetic dry erase boards usually have a limited life span in which you can avoid any ghosting. Ghosting can also occur for a number of reasons including selecting a low quality, cheap magnetic whiteboard, repeated heavy use of the magnetic whiteboard and leaving marks on the product for extended periods of time.
Choose from either a paint or wallcovering solutions from Smarter Surfaces to achieve your magnetic dry erase surface :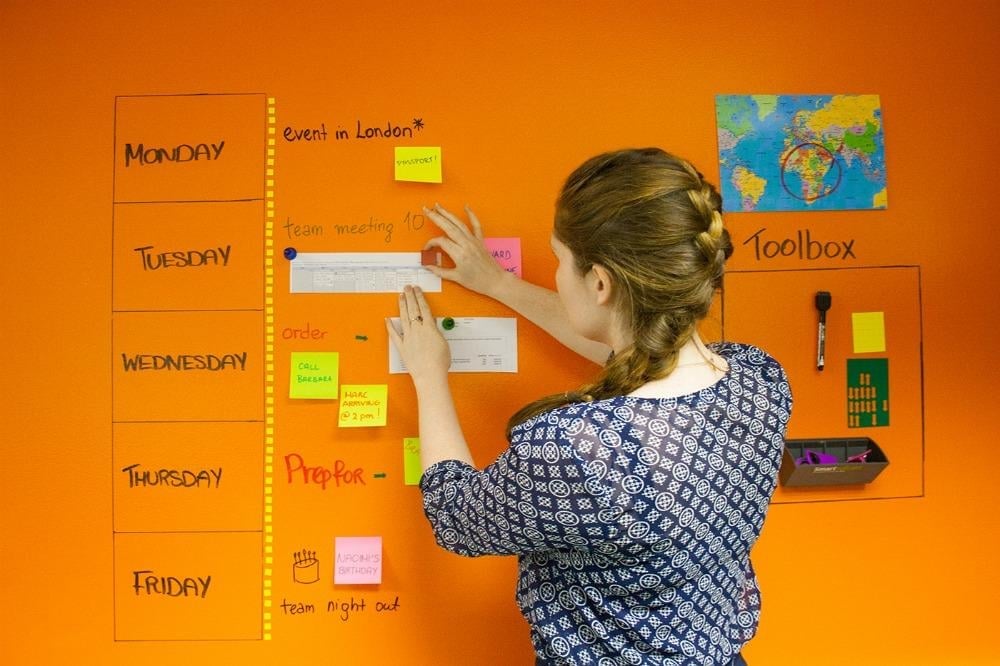 Smart Magnetic Whiteboard Surface – No Size or Colour Constraints
Smart Magnetic Whiteboard Paint is a combination between Smart Wall Paint, a dry erase one-coat solution, and Smart Magnetic Paint. When applied together,  they can equip any smooth surface with magnetic dry erase functionalities. Rather than being bound by the size and colour restraints of regular magnetic dry erase boards,  Smart Magnetic Whiteboard Paint is a much more flexible product.
Smart Magnetic Whiteboard Paint comes in kit sizes of 2 sq.m, 6 sq.m, 18 sq.m and 34 sq,m which means you can paint any size area you want. You can also choose between white or clear options.  Unlike regular whiteboards,  you can create a dry erase and magnetic surface in whatever colour you choose.
Smart Magnetic Dry Erase Paint is applied directly onto the wall, blending seamlessly into any room, and can be applied by anyone. It should be noted that depending on the size of the area,  it may be preferable to have it applied by a professional installer. (It is even easier to remove Smart Magnetic Whiteboard Paint, simply paint over it.)
Due to the number of coats required, three for magnetic paint, three for primer and one for Smart Wall Paint, allow for drying time between coats, which can make the application time rather lengthy.
For extra magnetic strength, you can choose to apply up to 7 coats of magnetic paint.
Smart Wall Paint is a high quality whiteboard paint which does not ghost. It has no harsh or cheap chemicals. It abides by all regulations of EU standards and is a low VOC product. These factors help it prevent poor erasability such as the likes of ghosting. This product also comes with a 10 year guarantee. In terms of magnetic functionality,  Smart Magnetic Paint has a medium magnetic strength with 50% magnetite content.
So if budget is important and you have plenty of installation time, Smart Magnetic Whiteboard Paint is probably best for you. If you want colour options( beyond white) as well as functionality, this is the only solution for you.
Smart 2 in 1 Wallcovering: Magnetic and Dry Erase.
Smart 2 in 1 Wallcovering: Magnetic and Dry Erase is a commercial wallpaper which contains both magnetic and dry erase functionalities. The product comes in rolls of 10 sq.m and as it is applied directly onto the wall you can cover as large of an area as you wish.
Apply just like any wallcovering using ready-mix adhesive. As soon as the adhesive dries (usually in 24 hours), they are ready to use with any quality dry-erase accessories, neodymium magnets. It should ideally be applied by a professional installer or at least by someone familiar with applying similar products. The wallcovering is also removed like any wallpaper.
Smart 2 in 1 Wallcovering: Magnetic and Dry Erase is a high quality dry erase and magnetic product meaning it has a strong magnetite content and also does not ghost. This product is only available in white and comes with a 5 year performance guarantee.
If speed of installation is your priority, than our dry-erase and magnetic wallcovering is for you.
Read about Nostra's experience with using Smart Magnetic Whiteboard Paint Clear here.