How To Create a Whiteboard Surface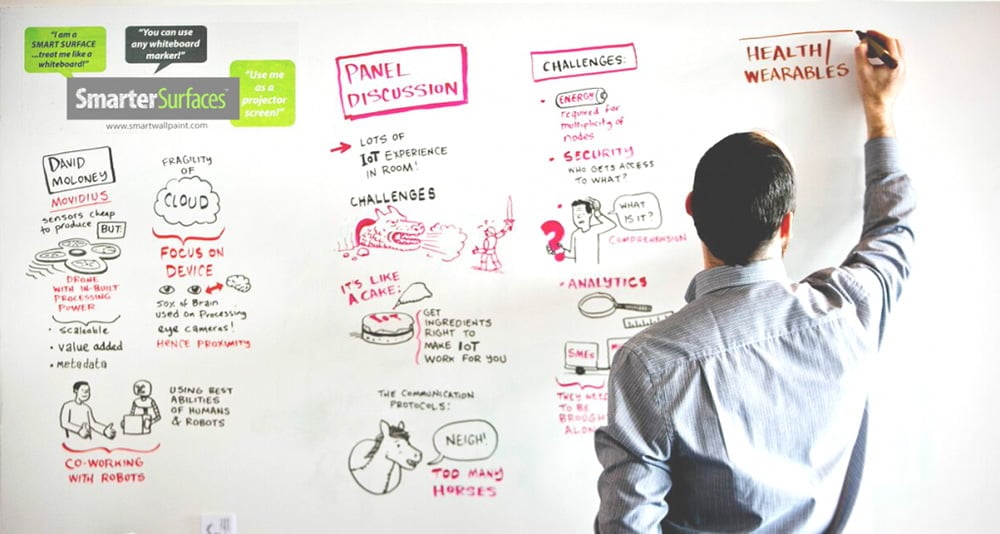 Today we have a simple, five step guide on how to create a whiteboard surface, using our award winning, whiteboard paint – Smart Wall Paint.
Smart Wall Paint transforms any smooth surface into a functional, writable area that can fit seamlessly into any office, school or home setting.
To apply your paint, and create a whiteboard surface, you will need the following tools, some of which are included in your kit.
You will need:
Measuring tape
Masking tape
Decorator's filler (if your surface has holes or cracks)
Sanding paper
2 x rollers
Paintbrush
Cover sheets
Paint tray
Steps:
1. Measure the area
Measure the area that you wish to cover with your Smart Wall Paint using a measuring tape, and make sure that it doesn't exceed the quantity listed on your tin (2m², 6m², 18m² etc.). If you stretch the paint its whiteboard properties will be affected and you will not be able to erase your marker.
If you are painting only part of a wall, it is a good idea to outline the area using masking tape to avoid any crooked or messy lines.
Protect your floors and surrounding areas using cover sheets.
2. Smooth the surface
Check and fill any holes or cracks in your surface with decorators filler. When your filler has dried, smooth the filled surface using your sanding block. You should also prime any areas where you have used filler.
3. Prime the surface
Before applying Smart Wall Paint White it is really important that you coat your wall in two layers of primer. Ordinary emulsion or latex paint isn't suitable for this as they do not prevent the Smart Wall Paint from being absorbed into the wall, so we really recommend that you use Smart White Primer.
If you are applying our Smart Wall Paint Clear we recommend using a clear sealer when you are painting a new wood material, a new porous or dry material (plaster/concrete), on top of a wallpaper or over a matte finish coloured paint.
Firstly, make sure your wall is clean and dry, and stir your primer/sealer thoroughly. You can use a brush or a roller to apply your primer, but do not reuse the same tool when applying your Smart Wall Paint as this absolutely cannot come into contact with water. Typically, drying time is about 2-4 hours between coats and 12 hours once you have finished applying your final coat.
4. Mix, Stir, Apply
Pour Part A of Smart Wall Paint into Part B and stir it thoroughly for no less than five minutes using the stick we have provided in your kit.
Fill in the edges of your wall using a paintbrush as this is more precise and easier to manoeuvre.
Our Painting Tips
:
Work from left to right with your roller
Roll in a metre section at a time
Pass the roller over the surface ten times in one application
5. Finishing Up
Examine your painted surface from several angles and touch up any spots you may have missed when applying your whiteboard paint. Remove masking tape from any edges or fittings before the paint has dried to avoid cracking. Your whiteboard wall will be ready to use five days from application.
You can also create your own  Smart Magnetic Whiteboard Surface with our comprehensive list of Whiteboard products.  
We've even listed some of the top uses for your Smart Magnetic Whiteboard wall, to help you work how best to use it.