How To Use Projector Whiteboard Surfaces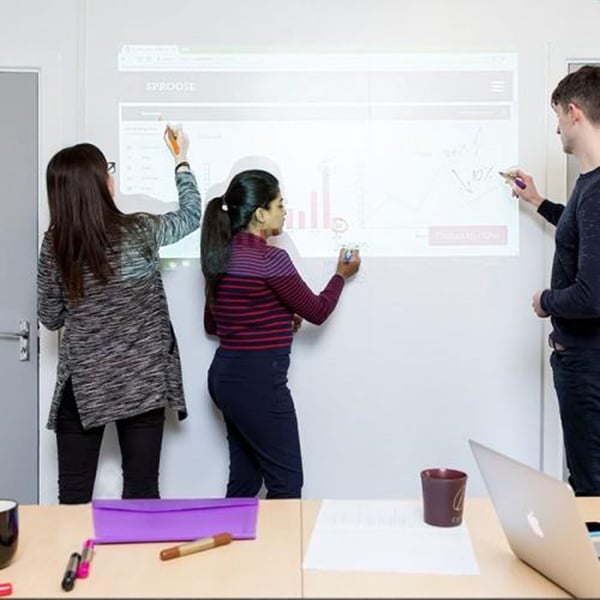 There are so many benefits to adding projector whiteboard surfaces to your space.
From improving project management to interactive meetings, the possibilities are endless.You'll only need one product too: Smart Whiteboard Wallpaper – Low Sheen. This functional wallpaper allows you to transform smooth walls into projector whiteboard surfaces, in just one easy and quick installation.
You may be wondering just who can benefit from these interactive surfaces?
Well, the good news is that there are dozens of ways that you can use projector whiteboard surfaces in any workplace or classroom.
Keep reading below to discover the many different ways that projector whiteboard surfaces can be used.
Use Your Projector Whiteboard Surfaces For Meetings
Want to make your meetings more energetic? A projector whiteboard surface will have everyone up writing on the wall, instead of seated around the table. Project meeting agendas onto the wall and cross each topic out as you go. You can then use the dry erase functionality to explore everyone's ideas.
You won't need to worry about running out of room.
Add Something Extra To Your Presentations
Or maybe you want to make your presentation a little more interesting and memorable?
With projector whiteboard surfaces, you will be able to project clear images for a whole room of people to see. Graphs, images or even your website.
That's not all though. Use the writable functionality to make note of questions people have throughout or comments at the end, That way things can be much more interactive
Transform IT and Tech Departments
Just because you work in an IT department, doesn't mean you have to be limited to working at your computer screen.
Why not visualise your projects on a larger scale with a projectable and writable wall?
IT support company, My IT Department, created their own projector whiteboard surfaces. By using Smart Whiteboard Wallpaper – Low Sheen, this IT company was able to install their very own projectable and writable wall.
Now they can efficiently manage and visualize their projects. These surfaces will truly transform the way you work.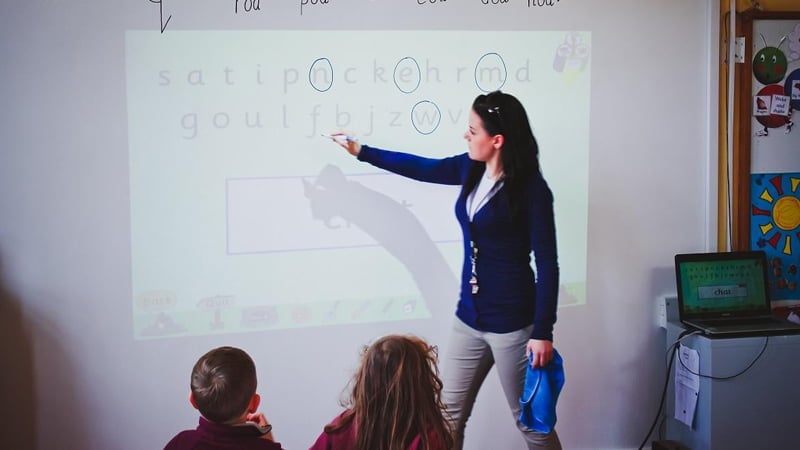 Projector Whiteboard Surfaces In Schools  
One of the challenges many teachers find is trying to keep their students' attention for an entire lesson. Who can blame them? When students spend the majority of their day sitting down and listening, it can be hard to get them fully engaged.
Well, not anymore.
Projector whiteboard surfaces are here to make class time fun and interactive.
Why not designate a wall to a group of students? During lessons they can get up and brainstorm, draw diagrams or even write out math problems.
With projector functionality teachers can also project images and diagrams onto the wall and have students come up and label them.
Our Smart Whiteboard Wallpaper – Low Sheen is perfect for use in schools. It's safe to apply around people and can be used in just 24 hours.
What about projecting problems or equations onto your wall and having groups of students coming up to solve them together?
Not only that, but you can project lesson plans, homework lists and so much more.
That's the great thing about projector whiteboard surfaces. You decide how you use them.
What About Event Planners?
Want your events to have a unique spin to them? Then try adding projector whiteboard surfaces.
As they say, "a picture is worth a thousand words". So how about projecting images or videos that relate to your event onto the wall?
If you're launching a product for example, you could project images or adverts for your new product throughout the event.
Why not get your guests writing on the walls too? Much like in the classroom, projectable and writable walls promote interactivity among guests.
Check out how this TedX talk used writable surfaces to get their attendees discussing their thoughts on the talks:
In a rush and want a projector and whiteboard surface that's ready to go? Then choose Smart Self Adhesive Whiteboard Film -Low Sheen. This self adhesive film gives you projectable and writable surfaces and furniture  that's as easy as stick on and go.
Set your event apart with projector whiteboard surfaces today.
Have you any questions regarding our products? Call us on the relevant number below:
US:   1800 932 1609  IE: 01 4126200   CA: 1800 948 9438