3 Ways to Use a Customer Wall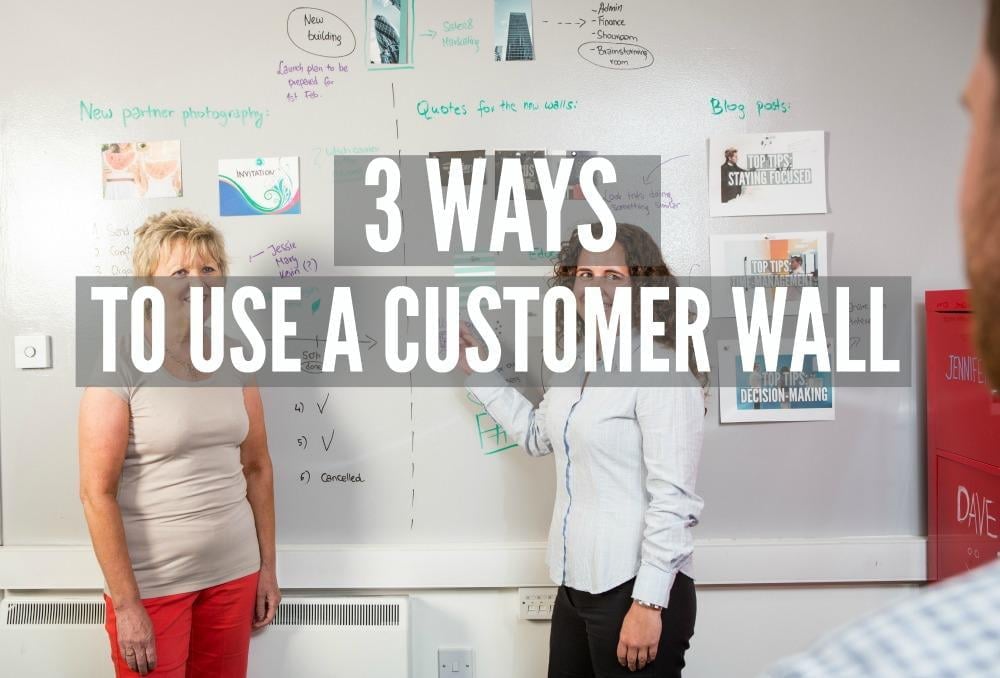 Some of our products are used for the more obvious benefits they offer. So a whiteboard wall (achieved via whiteboard paint or whiteboard wallpaper) is used for writing-on and wiping-off, as you might think.
But sometimes, customers share the most ingenious ways of using Smarter Surfaces walls. In fact, many times we take our customers' ideas and adopt them in our own office.
Here are three
Customer Logos on Your Walls
So we invested in a professional artist to come into our office one day and draw some of our customer logos along the highest parts of our office walls.
Check out the pic below and you will see a row of just some of our valued customers drawn along the wall. This part of the wall is so high, we will never use it for writing on as they are unreachable.
The logos look fantastic.  Not only do they remind our own staff of how much our products are loved and used all over the world, but they impress visits to our office too. At a glance, they can see who our customers are.
Need to update customer logos ? No problem. Simply wipe-off and add more recent ones.
By the way, if you have a scribe in your office, no need to hire a pro.
Announce New Customers Every Day
We love our customer wall but some of those logos have been on it for a couple of years now. Our marketing team are always keen to share news of our latest new customers. We know how brilliant our products our, so its lovely for all of us to see who else loves them, on a regular basis.
We used a previously unused wall just outside our staff kitchen area where we write up customer names and logos (shout out to our award-winning whiteboard paint) and where we stick up printouts of customer home pages or logos (shout out to our magnetic paint (in this case, or choose magnetic plaster).
Customer Feedback Wall
Many of our customers in education and training (and some in retail) have introduced a customer feedback wall, or to be specific, a customer feedback corridor!.
If you have a corridor within your working environment, chances are it is underused. Consider making it a customer feedback wall. We write customer testimonials along our wall (thank-you Smart Wall Paint), and we stick photos that customers have shared with us about how they use our products (thank-you Smart Magnetic Paint or Smart Magnetic Plaster)
Why not use your wall for photographs you received from customers using your product, or stick up reviews they have left on your website?
Not only will it get your team inspired, but it spreads good news around the whole office.
Everybody can own the wall, not just the marketing team.
So with one or two (or a combination) of some of our simple but innovative products, you can bring good vibes as well as collaboration and internal PR to your work space.
Want to know how to apply clear dry erase paint? Read this blog to know more.
You can also check out the Top uses for our Whiteboard paints.