Use Projector Wallpaper Not Screens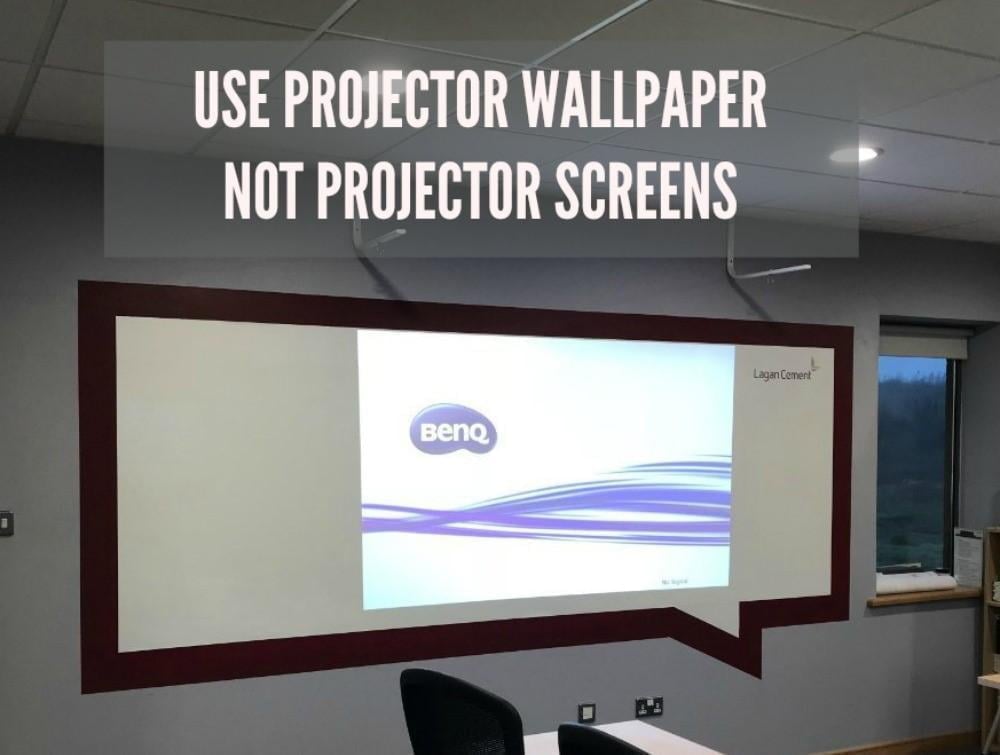 Founded in 1952, Lagan Group is one of the largest privately owned companies in Ireland, employing over 1,000 people with a turnover in excess of £350 million. "Our quality products and the expertise of our people are behind countless developments around the world – from new housing developments in Northern Ireland and Britain, to highways in Oman".
What was the Problem ?
Lagan Cement wanted to get rid of old broken projector screens and replace it with projector wallpaper. At the same time, they also wanted to modernise their offices. Well, they came to the right place. We can address both of those problems!
The Solution : Projector Wallpaper
First, the traditional pull down projector screens were taken down and removed. The company decided to do more than just replace projector screens. They choose to have walls that offer three functionalities : magnetic, projector and dry erase. This will maximise the use of each wall and room.
If you want the same result, just follow these easy steps:
Apply 3-4 coats of Smart Magnetic Paint (you can paint upto 7 coats, after which magnetic strength will optimise).
Apply one coat of primer. This helps with the adhesion of the wallpaper.
Finally, install one of our recent product innovations, Smart 2 in 1 Wallcovering: Projector and Dry Erase.
Check out the wall before Smarter Surfaces functional wallpaper was installed,and with a clunky screen taking up a lot of space :
Check out the wall after Smarter Surfaces. No more projector screens, just a clean looking wall with projector wallpaper :
Add Your Brand to Your Projector Wallpaper
Darren Toner of Smarter Surfaces Northern Ireland, went one step further. As soon as the wallpaper adhesive dried, he applied masking tape to outline the borders which he painted in.
Next, a sticker of Lagan Cement's logo was stuck on top of the projector wallcovering.
In this installation, the Smarter Surfaces solution was applied over both existing paint and existing wallpaper.
About the Products Used
Smart Magnetic Paint is a paint that contains magnetite. This makes the surface magnetically receptive (rather than turning the surface into a magnet! (Xanax) ). Due to the magnetite content, the paint is a mid grey colour.
Smart Primer has two jobs to do. Firstly it seals the base surface. Secondly, it allows the projector wallcovering to stick to the surface with consistent evenness.
Smart 2 in 1 Wallcovering is a commercial grade dry erase and projector wallpaper which comes on a 10m roll. Apply just like any wallcovering, with regular ready mixed adhesive.